3D inspection is a great tool to use for finding problems in process or tooling.  It is a great addition to any company and provides a sales tool in bidding situations.  RESI can provide any number of inspections, from simple dimensional checks on lengths and widths, to complex 3D surface profiles of entire parts.
RESI are experts in GD&T and the software utilized is one of the very best at proper calculation.  Starting with the high accuracy data gathered from customer's parts, RESI builds a custom inspection report to meet the customer's needs.  These can be spreadsheets, pdf reports, PowerPoint reports, full PPAP documentation or go/nogo results.
Check out a sample pdf dimensional report here.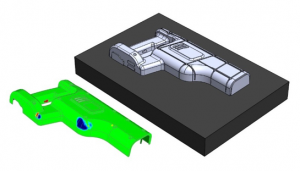 Problem solving
One aspect that sets RESI apart from other metrology providers is the in-depth problem solving results.  RESI employees are experts at root cause problem recognition and solution.  RESI works with clients, hand in hand, to identify problems and find solutions.  Once solved, RESI continues to work by verifying the new product is correct to the customer's specifications.  This industry leading approach is a great tool for the customer because RESI finds problems faster and helps to implement the solution, after identifying the problem.  Contact RESI today and start making your products better!

Virtual Assembly
With technology and software, RESI can virtually measure any components and assemble them digitally.  This allows RESI to detect problems prior to installation and is a great tool for repeatability of the customers product.  This method is used often in root cause analysis side of inspections.  RESI can also use this method to match pairs of parts and ensure they fit, saving time and money from hand fitting or trial and error methods.  This method is also very helpful for print, tolerance, and GD&T validation as RESI can take the assembly of high and low parts to predict problems.
To tap into the process that can provide results, Get started with your project today!