RESI was founded because the industry deserved more customer focus.  With an emphasis on the clients best interests RESI works to provide results, not just reports.
RESI was founded to provide customers with a proven system that gets results in a timely manner.  Today, too much emphasis is placed on the numbers of jobs completed, the aspect of quality goes out the window.  RESI does not treat their clients that way. Instead, RESI engineers roll our sleeves up and work with the customer to get problems solved! Our experts are here to provide you with a level of service that goes beyond inspection reports and CAD models. We provide results you can see.
If you're looking for a PPAP inspection that proves some minor fixture adjustments are in order, or an in-process inspection that helps solve your weld sequencing dilemma we are here to help.   We will go above and beyond to be sure you are completely satisfied before we leave.  Repeat customers are a cornerstone of our business model and we take customer service very seriously.
RESI Technology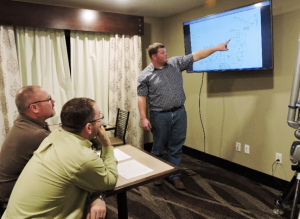 RESI utilizes the latest in Portable CMM and Laser scanners to digitize your project.
Those tools, along with the best software packages, allow RESI to leverage our skills to the maximum and provide superior results.
RESI also works with a network of trusted vendors for traditional contact CMM work and other engineering services you may need.  This allows us to complete all aspects of your project in one place!
Values
Customer Focused. Quality Driven.
---
RESI will not sacrifice quality for any reason. RESI holds all our divisions to the highest standard and will ensure the job is done right, no exceptions. For this reason, you will be blown away by our services.
Vision
Be the leader
---
RESI's proven process helps to build better product, and build a better future. This vision is what pushes RESI to be the leader. RESI will continue to lead by example and show how projects should be handled.
Mission
Face The Challenge Everyday
---
RESI sets a mission for our people to challenge themselves to improve. RESI understands that, until you challenge yourself, you don't know what you can achieve. RESI will take on the problems and find solutions . . . . EVERYDAY!